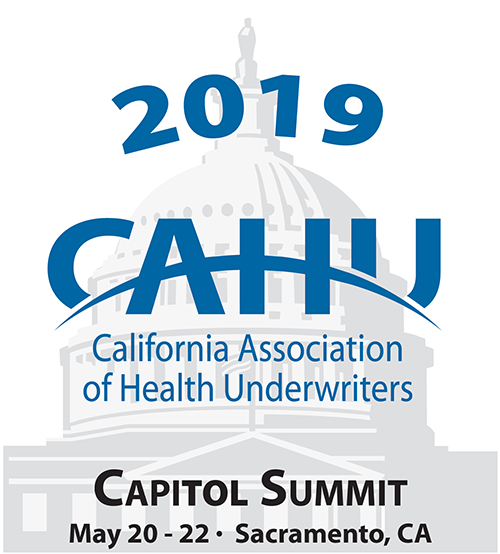 Join us for the 2019 Capitol Summit at the
Sawyer Hotel, Sacramento
To register for the 2019 Capitol Summit - click here!
Schedule of Events
Monday, May 20
1-5 p.m. - CAHU Board Meeting
6:30 p.m. Vanguard Event @ Brasserie Capitale
Tuesday, May 21
8:00 a.m. Registration Opens
9:00 a.m. Capitol Summit Opening
9:15 a.m. Insurance Commissioner Ricardo Lara
9:45 a.m. Speaker Announced soon!
10:15 a.m. Tyson McDowell, Tech Entrepreneur
10:45 a.m. Short Talks
11:30 a.m. Lunch and networking
12:30 p.m. Deputy Cabinet Secretay Richard Figueroa
1:15 p.m. Legislative Tips
1:45 p.m. Senior Benefits Advisor, US Department of Labor, Cristina Collazo
2:30 p.m. Assemblymember Marie Waldron
3:30 p.m. Happy Hour with Exhibitors and Sponsors
3:30 p.m House of Delegates
5:00 p.m Kaiser Sports Medicine tours (meet on Golden 1 center side of the Sawyer Hotel Lobby)
6:30 p.m. CAHU PAC Reception (RSVP Here)
Wednesday, May 22
8:00 am Registration Opens
9:00 a.m. Welcome
9:15 a.m. CAHU Name Change Survey & Town Hall
10:00 a.m. Assemblymember Ken Cooley
10:30 a.m. CAHU Annual Report
11:15 a.m. Adjourned
Interested in sponsoring? Click Here!
Agenda and speaker information will be published as it becomes available.
Thank you to our Event Sponsors!