Our Issues
Priority Bill Reports
Date: March 24, 2021
CAHU - Bill List 2021
| CAHU Members Only
Date: October 1, 2020
Priority Bill Report - October 1, 2020
| CAHU Members Only
Date: September 3, 2020
Priority Bill Report - September 3, 2020
| CAHU Members Only
3 Most Important New Health Insurance Laws from 2020 by Bill Robinson
CAHU wants members to be aware of any bills scheduled for hearing in the Legislature or action by the Governor.
Podcasts & Webinars
2020 Year In Review Legislative Webinar
Date: January 19, 2021
2020 Year in Review Webinar Recording Available!
| CAHU Members Only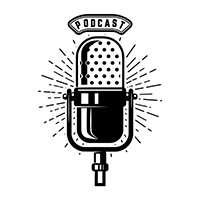 Date: October 19, 2020
Legislative Updates & Election Preview
Join Dorothy Cociu and Marcy Buckner, Senior VP of Government Affairs at NAHU, for an in-depth look at what is happening at the federal level, and what the elections might mean for our industry.
| Free Access
Date: September 15, 2020
Legislative Update August/September 2020 - Road Map to Single Payer Health Care?
This podcast will update our members and the public on current State of California legislative activities, including the upcoming elections and the election process in California. We'll also delve into a recent report prepared by the Health California For All Commission, which looks into a "Unified Financing" system for California, which many believe is a road map to Single Payer health care. CAHU VP of Communications Dorothy Cociu interviews Brad Davis, CAHU VP Legislation, and Faith Borges, CAHU Legislative Advocate, on the important legislative updates our members and the California consumer public should know about.
| Free Access
Date: February 24, 2020
Legislative Updates Podcast - February 2020
Marcy Buckner, Vice President, Government Affairs at NAHU provides an update on current and proposed legislation from the Capitol Conference recently held in Washington, DC
| CAHU Members Only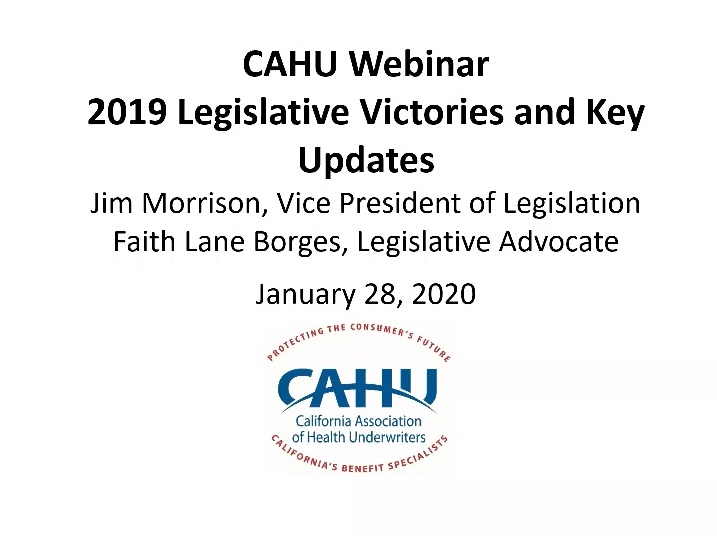 Date: February 3, 2020
2019 Legislative Victories and Key Updates
Listen as Jim Morrison, our CAHU VP of Legislation and Faith Borges, our advocate from California Advocates, recap the victories and key updates of the 2019 legislative year.
| CAHU Members Only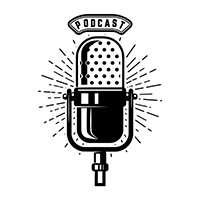 Legislative Updates Podcast
October 2019
Hosted by Dorothy Cociu (OCAHU), featuring Jim Morrison, CAHU VP of Legislation & Faith Borges, California Advocates.

Thank you to Dorothy Cociu for recording and processing the podcast!
CLICK THE PLAY BUTTON TO LISTEN!
CAHU Post Election Webinar (1/19)
Please CLICK HERE to watch and listen to the webinar from January 16, 2019.
Please CLICK HERE to see the slides from the webinar.
CAHU Legislative Wins Webinar
If you were unable to join us for the webinar on August 13, 2018, please CLICK HERE to listen and watch the webinar replay.
CAHU LETTERS ON LEGISLATION